Thank you Diana & Rick:
"We enjoyed our stay very much. The cabin fit our needs well, and everyone (kids, especially) appreciated the availability of kayaks and paddleboards. As an environmentally oriented family, we also appreciated learning about the work you have done to preserve and protect the quality of the lake. You have a wonderful setting and your helpful and relaxed way of working with us as guests made the experience more relaxing for all of us. Again, thank you."
Bruce 
Thank you Diana & Rick:
A week of family fun
We just came back from a week at Shady Hollow. This is our second year staying in cabin 4. This is one of the more modern cabins with air conditioning.
There is so much to do at Shady Hollow. The beach is beautiful with clear water and very minimal weeds. There are free standup paddle boards, kayaks, canoes and paddle boat. We love taking the pontoon out for a cruise around the lake for only $25/hour!
Our kids spend hours playing on the beach, which is so close to the cabin you can see them. There are also crafts a few days a week for the kids.
The owner Diana and all her staff are so friendly and helpful.
I can't wait to come back next year to make more memories!
Carrie
Good Morning Rick and Diana!
"Thank you so much for your hospitality! Our favorite part was the 'water toys' that you have available since we don't have any of our own. We used the row boat all day Monday to be on the lake, pack a lunch, fish, and just enjoy the sun and water. We also liked using the canoe and kayaks! We want to get a pair of kayaks for ourselves! We liked the no fuss atmosphere – it was really great that we didn't have to check out the boats we could just head down to the water and go. We liked that there was a smaller cabin and hope to rent a larger one if we can come back with our family. It was good to have options. Thanks again for everything!!!"
Karen K.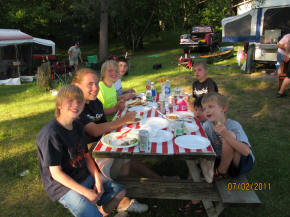 "My family and friends have stayed at several different resorts in the past but once we stayed with you at Shady Hollow we knew we found the place we were going to return to year after year. The lake is perfect for all the water sports (skiing, tubing, knee boarding, fishing, etc...) that my family enjoys so much. We all enjoy the free use of your toys on the beach and especially the blue floating raft that the kids can swim out to and jump off. On our walls proudly hangs the picture frames our kids made during craft time our first year staying with you. I can not express how incredibly excited the kids were last year when we arrived and the rock they all signed and set at your store door steps was still there from two years prior. Your hospitality and kid friendly atmosphere makes your cozy quiet resort the perfect family vacation spot. We all look forward to visiting you again in August!!!!!"
Paula R
"We absolutely love the small resort and "rustic" feel! You guys are the friendliest, yet not invasive hosts ever. It is so refreshing to be on vacation and not feel you have to have an eye on your child every second to ensure their safety-the resort is so small, homey and comfortable feeling that you can truly relax. Thank you!!!
It is all you guys though, if it wasn't such a perfect place to stay we wouldn't come back all the time. It's amazing how perfect it is in every way-the rustic cabins, the nice cabins, the group supper, how small it is, all the free toys/boats/etc., the kids activities, the free fish food-I could go on and on-WE LOVE IT! Can't wait to come back 🙂 Thanks!"
Michelle
"We are so happy to have found you guys. You have such a beautiful resort and are so good at what you do! Let me know if it's still available for that time frame. I'm also trying to talk my sister into renting the other cabin for the same week. I'll let you know. Thanks!"
Gwyn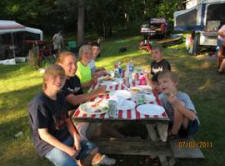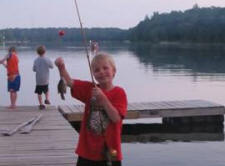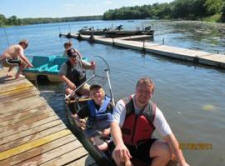 "We have gone to Shady Hallow for 3 years in a row now for the 4th of July weekend. We absolutely love it! We have 6 children and come up with our camper. This is a very family-friendly place to stay with our kids. The fishing and swimming are great and we love the smaller atmosphere that this resort has to offer. It's quiet in the mornings and it's easy to sit down at the beach and watch the kids swim without having 100 other people there at the same time. It makes for a very relaxing time. We will continue to make Shady Hollow our 4th of July retreat."
Jenny and Jason J
"We have so many good memories but the one that stands out most is about 4 or 5 years ago, Holly who is now 13 said to her mom on the way home from our week at the lake, "When are we going to the lake again? I just love to swim." One other memory is that of Troy who is now 9 years old and continues to be the fish in the family. When younger he set a goal for the next year such as , "Next year I am taking lessons so I can swim to the "blue thing" next time." Maddie, who is now 8 years old, loves to build things in the sand and loves to ride in the paddle boats. Andrew, 7 years old, was very proud of himself when he was able to jump off the pontoon in the middle of the lake and swim back to the ladder. He said that next year he would do it twice. Noah was full of sand as he drove the trucks all over the place. He also was more of a face painter than a rock painter! Stacey, Misti, Jeremy, Scott, Deaunn and Austen also enjoy the lake. Last summer, Steve was in the middle of a bettle with lung cancer. I have a great picture in my mind of Austen and Steve around our campfire roasting marshmallows to make s'mores. It was one of the few smiles we got out of Steve during those tough chemo days!
We have a lot of pictures of the kids fishing off the dock with the dads and moms having just as much fun as the kids. Eric loved to come when he was younger. He still remembers his lake toy that he lost one year and you saved for him when it came up on shore. He thought that was amazing that you would save it for him.
The greatest benefit we get from the lake is the family relationships we are able to share every year. As the kids grow and life events happen, the week at the lake brings us all together for a time of regrouping and reacquainting ourselves with each other. I thank you for that opportunity!
Good luck with the new website. I hope you are not too buried in the snow!
See you next summer!"
Becky